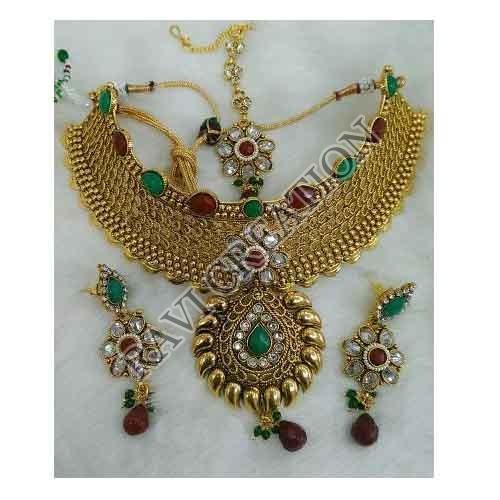 There are plenty of people who face the challenge while choosing the right jewellery. Jewellery helps to embrace the formality of the outfit, attractiveness and bring a glow to neutral of plain outfit and also adds a pop of shine and joy to any outfit that might be boring otherwise. Jewellery is a timeless and the most important accessory classic that is loved by everyone. However, you must choose the right jewellery for the outfit that you choose to look amazing and steal everyone's attention.

This is one of the best guides for you. Here you will learn how to choose the best jewellery from the best imitation jewellery wholesalers in Gujarat, India.

Choose According To The Occasion

Think about the occasion or event that you are attending and then choose the jewellery accordingly. For instance, one cannot wear dangling jewellery at work as one needs to concentrate on the work.

Select According To Your Skin Tone

This is one of the most important points that one should always keep in mind. The jewellery that you are choosing to wear should not only go with your outfit but also with the colour of your skin. For instance, people who have cooler skin tone should choose to wear gems that are red, blue, purple or gold. This looks great with matte skin and darker hair.

Learn About The Options

There are plenty of options like ankles, earrings, watches and many more. Everything that you see today has a different size, shape and appearance. So just one needs to choose the jewellery that increases the glow of your outfit and also enhances your style.

Jewellery According To The Skin Tone And Face Shape

Following are some of the steps to find the right jewellery that matches your skin tone and your facial structure.

• Silver, white gold, platinum will enhance the beauty of a person with a cool skin tone effectively and efficiently.
• For the ones who have warmer skin tones, brass, gold, pewter and copper are the best thing to choose.
• No dangling and long earrings for people who have an oval face shape. There is no such restriction while choosing a necklace long or short, both will look great on them.
• Short and round earrings look great on people who have a rectangular shape. This will glow up the beauty of the face and a choker can be a great thing to choose.
• For square and round shape, extended necklaces are the best choice. In terms of earrings, they must choose ocular and angular shape earrings.

Jewellery According To Different Outfits

T-shirts And Jeans
One of the chief parts of any girls wardrobe is jeans and a t-shirt. One can look agile when it is worn with the right accessory. This outfit can also transform by wearing a pair of chunky hoop earrings, bracelets or rings and long chains can also play an important role.

Neckline Dresses
The right necklace will help enhance the neckline dress. One must go with the long necklaces with pendants if you are wearing a dress that has a deep V neckline. Short necklaces are enhancement of sweetheart neckline and a layered necklace for crew neck cut clothing.

Choose according to your attire and skin tone and rock every look. Choose the best jewellery from the reliable and trusted Imitation jewellery wholesalers in Gujarat and create your look.
This entry was posted on May, 13, 2021 at 12 : 13 pm and is filed under Imitation Jewellery. You can follow any responses to this entry through the RSS 2.0 feed. You can leave a response from your own site.